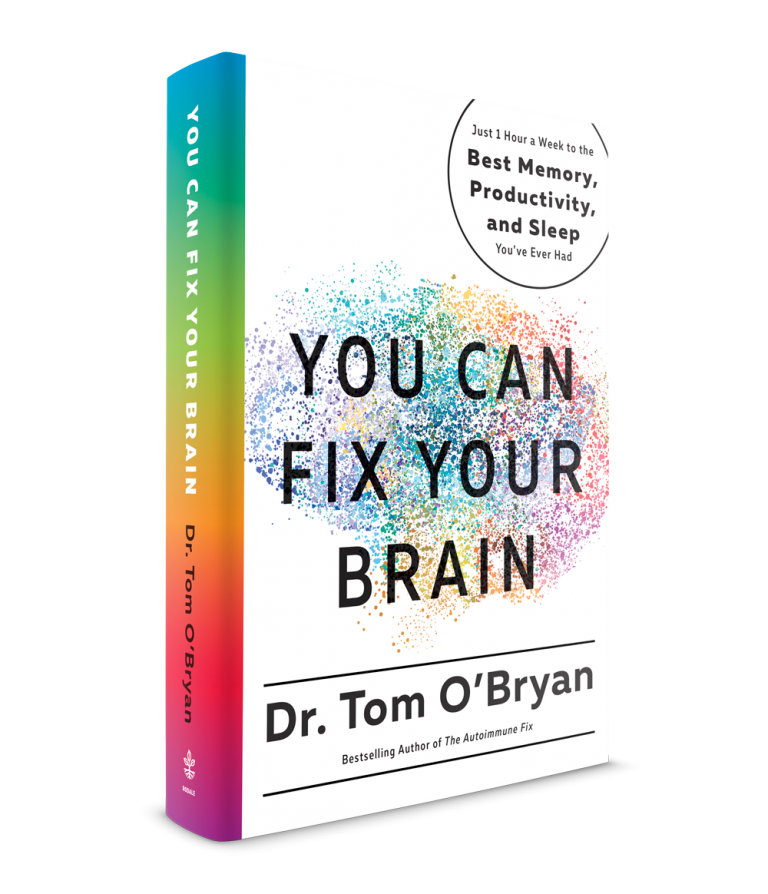 For anyone worried about any type of brain ailment, ranging from the chronic conditions to simple brain fog and fatigue, this essential guide covers the full spectrum of prevention to treatment.
We've all experienced brain fog, misplaced keys, forgotten facts, a general feeling that you're just feeling off today. And many of us will experience that "fog" manifesting as something more permanent either in ourselves or our loved ones.
No matter what your current brain health state may be, You Can Fix Your Brain will enable and empower you to take concrete steps that will make an immediate difference in your brain's vitality, clarity, and energy. Your memory will improve, fogginess will disappear, you will be less tired all the time, and much more. And, you will learn that these are not empty promises. Dr. Tom O'Bryan, the author of The Autoimmune Fix, knows how to create lasting changes in health, and he is here to share them with you.
It is a step-by-step approach to better cognitive function being selective about what's on your fork, what's in your environment, and how you take care of yourself can make a world of difference. With only one hour a week of practice, in 6 months, you can say goodbye to brain fog and welcome a better long-term memory and a sharper mind.
TOM O'BRYAN, DC, CCN, DA CBN, is the author of The Autoimmune Fix and an internationally recognized speaker and writer on chronic disease and metabolic disorders. Founder of TheDr, he organized the popular Gluten Summit in November 2013 and a second one in May 2016. Dr. O'Bryan has more than 30 years of experience as a functional medicine practitioner and is an adjunct professor at the Institute for Functional Medicine. He lives in San Diego.
EARLY PRAISE FOR YOU CAN FIX YOUR BRAIN:
Dr. O'Bryan masterfully guides the reader to the goal of achieving a better brain! While built on the most leading edge research in the neurosciences, the action plan…
David Perlmutter MD
#1 New York Times bestselling author of Grain Brain and Brain Maker
Many useful insights here….An excellent resource for anyone who wants to do all that they can to heal and repair their brain! Highly recommended.
Terry Wahls MD
Author of The Wahls Protocol 
Recent discoveries in neuroscience have taught us that the brain can heal itself and become more resilient when given the right environment. And remarkable clinical…
Professor Benjamin I. Brown
UK College of Nutrition and Health, Author of The Digestive Health Solution
Dr. Tom is always ahead of the health curve, connecting the dots in unique and insightful ways. In You Can Fix Your Brain, he brings together a combined autoimmune…
Deanna Minich, PhD, FACN, CNS, IFMCP
Author of Whole Detox and The Rainbow Diet
Once again Dr. Tom O'Bryan has crafted a resource that is equal parts inspiring and practical in helping people take action towards changing their health trajectory.
James Maskell
Founder and CEO, Evolution of Medicine
Dr. Tom O' Bryan's new book, You Can Fix Your Brain, is highly informative. From exposure to toxins in the air, water, food, cleaning, and personal care products, mold…
Ben Weitz, DC, CCSP, CSCS Sports Chiropractor
Functional Medicine practitioner and host of the Rational Wellness podcast.
I highly recommend Dr. Tom O's new book. Yes, it is possible for you to not only prevent but reverse cognitive decline, and Dr. Tom has hit the nail on the head in his…
Dr. Jill Carnahan
Teaching Faculty Institute for Functional Medicine's course on Reversing Cognitive Decline
This book is a must-read for anyone interested in preserving brain health and preventing neurodegenerative diseases. Dr. O'Bryan applies functional medicine principles…
Sandra Scheinbaum, Ph.D.
IFMCP CEO Functional Medicine Coaching Academy
Dr. Tom O'Bryan's new book gives you all the tools to "fix it" but perhaps take your brain age back several decades. What he proposes is easy to read and understand…
Mark C. Houston
MD, MS, MSc, FACP, FAHA, FASH, FACN, FAARM, ABAARM, ABCCH Associate Clinical Professor of Medicine, Vanderbilt University Medical School
Dr. Tom has written another timeless book, and this one is precious to me. Every word is relevant and applicable to what's happening with millions of people today…
Reed Davis
(Reed is a Nutritional Therapist and Founder of the Functional Diagnostic Nutrition® (FDN) Certification Course.)